Bike Tech and Tune Up | Wheelsmith Tech Departments
Professional Bike Repair and Maintenance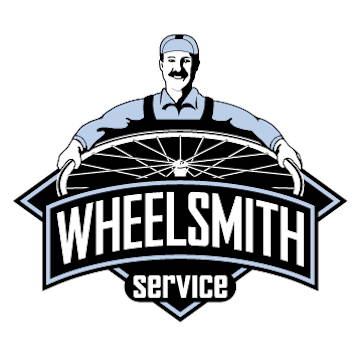 "Mike's gives my bike the love and attention that I never got from my father."
- Customer Survey Card comment (yes, really)
Due to popular demand, our Tech Departments do book up quickly. Please consider scheduling an appointment.
Our bike technicians are highly qualified and experienced to work on all makes and models of bicycles, not just the ones we sell. We also offer a comprehensive and unique 5-Year Maintenance Plan for sale with all of our new bikes. Whether it's a minor tune-up or a major overhaul, you can count on us to do the job right the first time, every time.
When you bring in your bike for service, we always start with a free, no-obligation estimate of the work that will be needed. One of our bike technicians will discuss the problem with you and will carefully explain what work should be done, always respecting your choices and your budget.
Getting ready to ride and discovered a flat tire? Hit a pothole and your rim is out of true? Sometimes you can't plan when your bike needs attention. Why not bring it in? If we can fix it on the spot, we will. And if we need more time, we'll let you know when to stop by to pick it up.
If you prefer the convenience of an appointment, we will discuss with you the appropriate amount of time to plan for the service, letting you know how to plan your visit. If it'll be ready quickly, you might want to check out what's new in our store while you're waiting. If you're going to run some errands while your service is being done, consider giving us a mobile number where we can reach you in case we have any questions.
---
Comprehensive Tune-Up Packages
Want your bike to feel like new again, with powerful braking, smooth shifting, and that new-bike shine?
Choose one of our tune-up packages for the best value and most complete service. Visit us today for your free, no-obligation estimate!
Inspect frame, fork & components
Adjust bottom bracket
Tighten crank bolts
Tighten chainring bolts
Inspect pedals for wear & tighten
Adjust headset & check stem bolts
Adjust hub bearings front & rear
True & tension wheels
Lube Cables & Housing
Align Derailleur Hanger
Adjust brakes
Adjust front derailleur
Adjust rear derailleur
Tighten & final check
Bike Wipe Down
Includes all items from Comp Tune, plus:
Install complete set of cables & housing
Clean frame & components
Clean drivetrain in solvent tank
Headset Bearing Overhaul
BB Overhaul
Bleed disc brakes front and rear
Install new handlebar tape or grips
Includes all items from Pro Tune, plus:
Front suspension service
Rear suspension service
Full pivot service
Individual Tech Services
Enjoy 50% off select labor prices below when parts are purchased from Mike's Bikes.
(services with "*" excluded from labor discount)
Air Sleeve Service
$60
Bike Build from Bare Frame
$500
Bottom Bracket Install
$60
Bottom Bracket Adjust
$20
Brake Install (cable / hydro) (each)
$70 / $100

*

Cable/Housing Replacement (each)
$45 - $70
Chain Install and Adjustment
$40
Chainring Install
$50
Clean Drivetrain
$85
Cleat Install (pair)
$20
Computer Install
$30
Derailleur Adjust (mech/elec)
$20
Disc Brake Bleed (incl fluid)
$50
Dropper Post Bleed
$45
Fork Install
$70
| | |
| --- | --- |
| Handlebar Tape Install | $40 |
| Handlebar Install | $30 |
| Headset Adjust | $20 |
| Dropper Post Install | $80 |
| Hub Overhaul (front / rear) | $40 / $60 |
| Insurance Quote | $75 |
| Rack Install | $30 |
| Rear Shock Install | $50 |
| *Spoke Replacement | $40 - $60 |
| Suspension Fork Overhaul | $100 |
| *Tube Replacement (ea) | $15 |
| Tubeless Conversion (each) | $45 |
| Wheel Build | $150 |
| Wheel Build, Gold Label | $250 |
| Wheel True (minor) | $30 - $60 |
Schedule an Appointment Today
While not required, we recommend calling ahead to plan your service. Spend more time in the saddle and less time waiting!