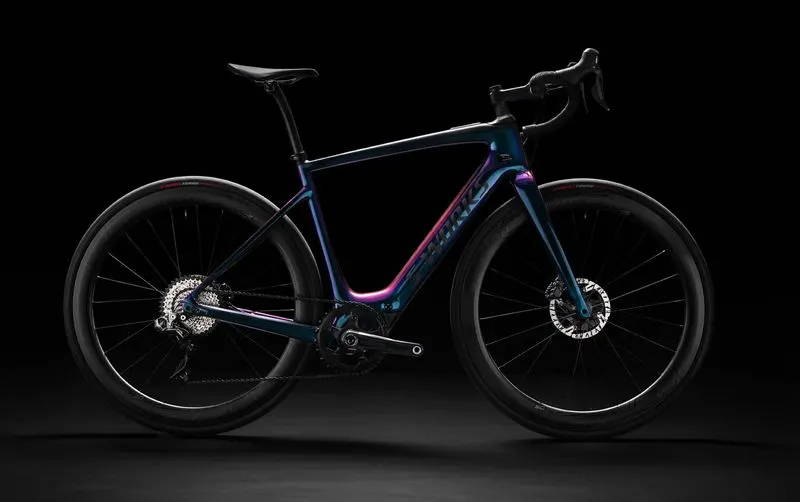 ---
Every so often, an innovation comes along that makes life so enjoyable that it's hard to imagine a world without it.
The e-bike is one of them.
Companies like Specialized, Santa Cruz, and BMC recognized early on that their e-bikes would need to perform every bit as well as their regular high-end lineups. The result? A fleet of e-bikes that handle like a dream with long-range batteries and motors integrated into their designs.
Here are some of our top-selling e-bikes:
With a build that's capable of anything, the Turbo Creo SL Expert EVO is one of the most versatile bikes in our road/adventure/gravel lineup. Its mountain-devouring battery has an impressive 90 minutes of range on turbo mode (with another hour from the optional range extender), and its mid-20s weight is the lightest in its class.
One of the most amazing things about this bike is that its pedal assistance never seems to hit a wall. Whereas some other e-bikes can help you get to 28mph and then leave you for dead if you want to blow past it, the efficiency, weight, and seamless motor engagement in the Creo SL make it all feel like one continuous, natural process. In other words, it feels exactly like a performance road bike should.
To complete the picture, the Turbo Creo SL Expert EVO is spec'd to the nines as well. Extra tire clearance lets you outfit the Roval C disc carbon wheels as suits your adventure. An SL 1.1 motor delivers up to 240 watts of juice to match your might, while intuitive torque response eliminates pedal resistance.
This is truly the perfect all-around e-bike for road, gravel, commuting, and more. Hop on and try to control yourself. People are starting to stare.
The Turbo Levo SL Comp Carbon will take you for three laps of your favorite downhill trail in the time it normally takes you to do one. It will give you just the right oomph when you're sweating out your favorite XC loop or hitting that jump. Seriously — if you normally do it on your mountain bike, the Turbo Levo will handle it without a second thought.
This carbon beauty is styled around the longtime industry favorite — the Stumpjumper. It sports 150mm of FOX suspension front and rear and high-end SRAM componentry on the drivetrain, brakes, and shifters. Built into the frame is a lightweight, seamless SL 1.1 motor to multiply your pedaling power by two, as well as a battery to multiply your range. It provides around 3.5 hours on Eco mode, with another 50% from an optional range extender.
It's quick, it's lively, and it's the most fun you can have on two wheels. It's no mystery that the Turbo Levo SL Comp has been a consistent best-seller.
The Turbo Vado SL 5.0 EQ is whatever you want it to be. It's a commuter bike. It's perfect for grocery store runs. It gobbles up long miles with ease, meaning it's a must-have for long, meandering rides through the city and countryside.
This is one of the most comfortable and capable bikes in our active e-bike collection. With an E5 aluminum frame and a build that's 40% lighter than the average e-bike, the Turbo Vado SL 5.0 EQ features a Specialized SL 1.1 lightweight motor and 320 Wh battery. This means you can take it 80 miles on a single charge, with an extra 40 miles from an optional range extender. The Future Shock 1.5 quells the chatter and the bumps, while Tektro hydraulic disc brakes take care of the stopping.
With Shimano and Praxis handling the drivetrain, you'll enjoy smooth shifting and efficient pedaling power no matter how much battery assistance you accept. Hop on, hold on, and get ready to have more fun on a bike than you've ever had.
About Mike's Bikes: Mike's Bikes is a growing family of local bike shops, all with a singular purpose - to get as many people on bikes as possible. We locally own and operate twelve wildly successful stores in Northern California. In addition to our brick-and-mortar shops, mikesbikes.com is one of the top online bicycle retail sites in the country.
---