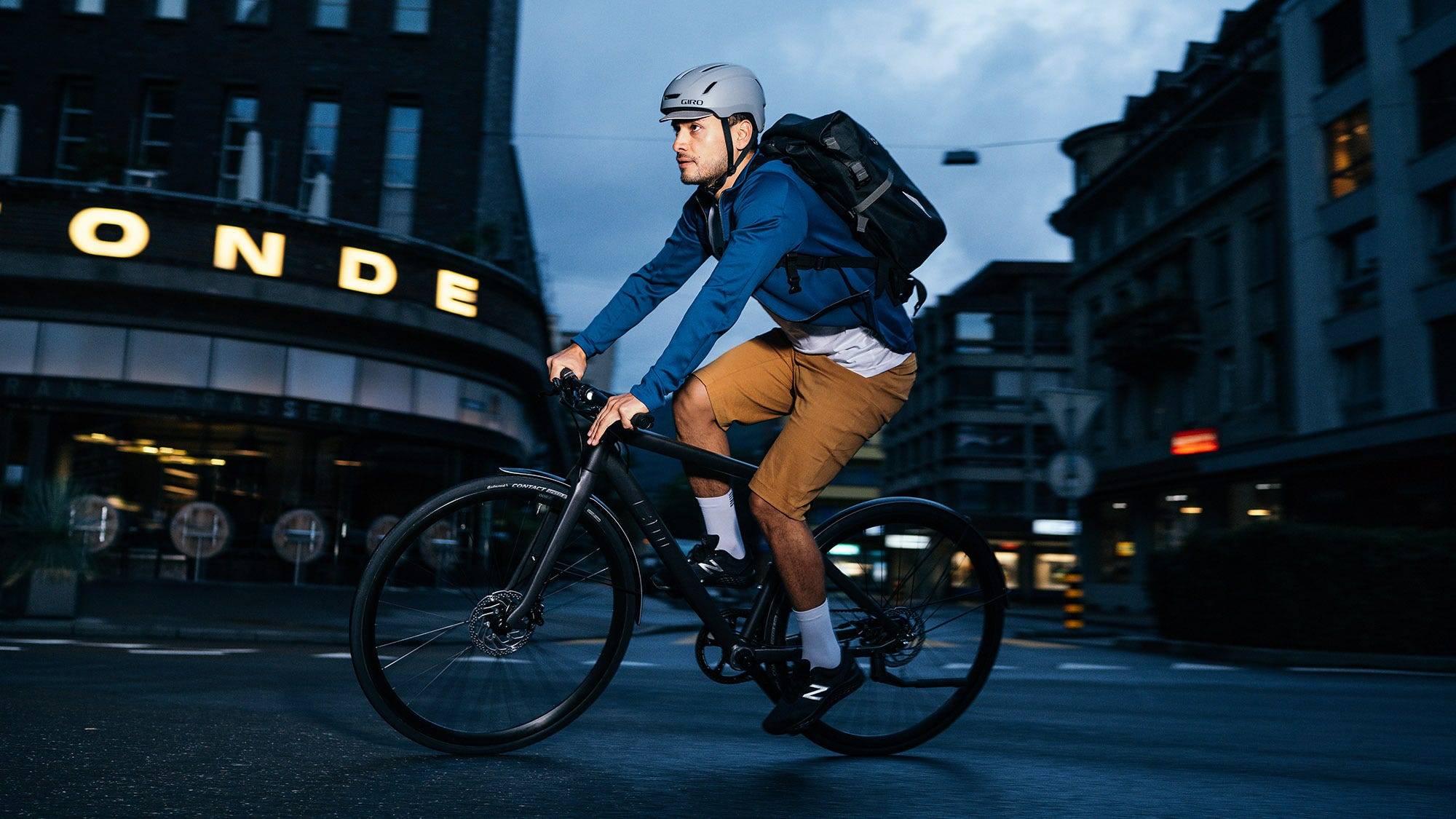 ---
Reclaim your daily commute by turning it from stress, traffic, and pollution into exercise, joy, and fresh air. We're talking, of course, about commuting by bike — the number one way to humanize a daily grind.
A commuter bike should feel stable, comfortable, fast, and ready for anything your life demands of it. Commuter bikes are ready for crap weather. They're totally down for that quick grocery store run. And they're always waiting by the door for a weekend joyride.
Without further ado, here are the top commuter bikes to watch right now:
PUBLIC Bikes V9 Aluminum
The 2020 PUBLIC V9 Aluminum is a slender, lightweight commuting beast — the lightest-weight of any of PUBLIC's diamond frames, in fact. Somehow managing to balance comfort and performance without sacrificing either, this bike promotes a healthy-but-not-overly-aggressive riding stance thanks to its responsive riser bars.
A Shimano 9-speed drivetrain combines with this bike's mere 25-lb. weight to power you up hills and past stopped cars. Mount a rack on the back for your briefcase or a grocery cart. Seriously, whatever you want to do, the V9-AL is down for it.
BMC Alpenchallenge Two
Forged of fyre and fortitude, the BMC Alpenchallenge Two was born for the commute. As a sort of Best-Of list of BMC's lineup, the Alpenchallenge Two includes the responsive handling, sleek lines, internal cable routing, and built-in fenders from some of BMC's most beloved bikes.
Add to that hydraulic disc brakes and an SRAM APEX1 1x11 drivetrain, and you've got a bike that's ready for high-speed road ripping as well as steep uphills. The forward rider position puts you heavily in the aerodynamic zone, ensuring the watts your legs give you don't get gobbled up by the wind.
Take this bike wherever you need to go, whether it's to work, to the store, or just exploring the streets and pathways of your local world.
Specialized Turbo Vado SL 5.0 EQ
Picture the following:
You easily toss your Specialized Turbo Vado SL 5.0 EQ bike over your shoulder — it's 40% lighter than the average e-bike, after all — and set it on the asphalt outside. One pedal stroke is all it takes. The bike is feeding you energy from a lightweight SL 1.1 motor, propelling you forward and silently matching your leg power.
Ahead, a river of brake lights looms. No worries. You blow past it at 28 mph without breaking a sweat.
Look, there's Monica from work! She's stuck in traffic! Poor Monica.
Wait, did you bring your briefcase with the two massive laptops in it? Of course, you did — it's strapped on the luggage rack behind you. You just didn't notice the weight. In fact, with a 320Wh battery and the extra range extender, you could ride with battery power for up to 120 miles on a single charge. Your commute is just 20 miles roundtrip, so maybe you'll take the bike for a 40-mile ride in the hills after work.
You stop for coffee and sip it as you watch a hummingbird tend to some honeysuckle. You look at your watch. Best be getting on. You hop back on your bike and are already taking care of emails by the time Monica walks in, muttering obscenities about traffic.
This is life with the Turbo Vado "Super Light" 5.0 EQ. This is commuting, redefined — no range anxiety, no back-breaking weight, and more freedom to explore than ever before.
About Mike's Bikes: Mike's Bikes is a growing family of local bike shops, all with a singular purpose - to get as many people on bikes as possible. We locally own and operate twelve wildly successful stores in Northern California. In addition to our brick-and-mortar shops, mikesbikes.com is one of the top online bicycle retail sites in the country.
---