Bike Fitting: How to Find the Right Bike for You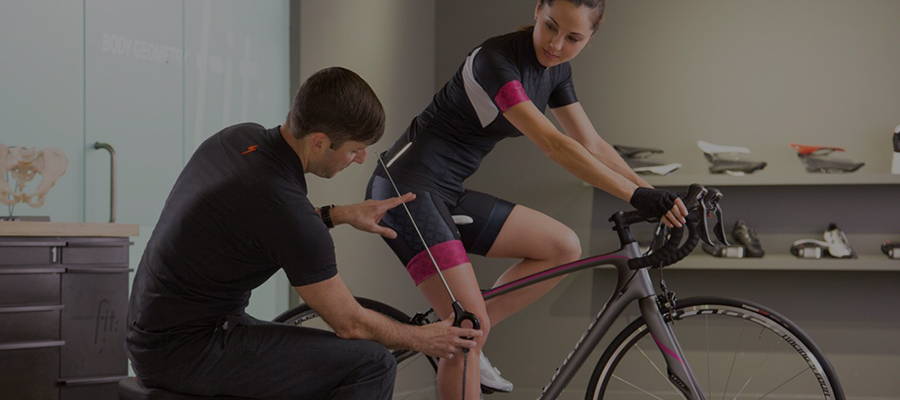 ---
From road to rocks and everything in between, bike geometry and components have come a long way. Sit on a bike from 15 years ago, and you'll wonder how anyone ever rode it — companies like Specialized, Santa Cruz, and BMC have been pouring millions into R&D to create bikes that are totally optimized for performance.
But there's a caveat — if you want to reap these benefits, your bike has to fit you.
The proper bike fit ensures more than just comfort. It lets you transfer the maximum amount of power from your legs to the tires. It prevents overuse injuries. And most importantly, it ensures you can stay on the saddle for as long as you want, letting you seize more opportunities and have more fun.
Here's how to find the perfect bike fit from the start:
1. Frame Size
The first and most important aspect is the size of your frame — get this step wrong, and it will be a fruitless battle to compensate with other components.
For road bikes, sizing looks something like this:
Height: 5'2"-5'6"
Bike Size: X-small or small
49cm - 53cm
Height: 5'6"-5'9"
Bike Size: Medium
54cm - 55cm
Height: 5'9"-6'0"
Bike Size: Large
56cm - 58cm
Height: 6'0"-6'3"
For mountain bikes, it generally looks like this:
Height: 4'10"-5'6"
Bike Size: X-small or small
Height: 5'6"-5'10"
Height: 5'10"-6'1"
Height: 6'1"-6'4"
We say "generally" because everyone's anatomy is different. You should be able to sit on a bike with around 2" of clearance between your groin and the top tube. Also, make sure the horizontal distance to the handlebars feels natural.
2. Seat Height
Much more forgiving is seat height, which you can adjust anytime you want. Here are the two rules of thumb for determining the correct height for your seat:
Spin your crank arms so they're vertical — one low and one high. If your heel can't reach the lower pedal when you're seated, lower it until it can just reach it.
For clipless pedals, you'll need to take a measurement. Place a book between your legs as high as possible with the spine facing forward. Measure the distance from the floor to the top of the spine. Multiply this number by 0.883, and take away 1/8th of an inch (4mm). This is the ideal distance from the center of the bottom bracket to the top of your seat.
Also, make sure your seat is in the right position — it should be centered on the rails and angled slightly downward.
3. Handlebar Distance
Ideal handlebar distance will depend on your flexibility and comfort. To find it, sit in the saddle in a normal, relaxed position. You should be able to comfortably grip the handlebar and finger the brake levers with elbows slightly bent. Your torso will naturally lean forward, but it should be supported comfortably by your core.
4. Wheel Size
The size wheels you choose will depend mostly on your preference and intended riding styles. For mountain biking, the options are 29" and 27.5".
A 29" wheel, being bigger, has more stability and ability to roll over things. That means free speed. Handling is not quite as agile as smaller wheels, but the consensus is that it's a small price to pay.
A 27.5" wheel is naturally stronger than a 29" wheel, so it's a great choice for downhill, enduro, and other rough-and-tumble styles of riding. It's also a bit zippier and easier to turn.
Ultimately the choice is yours — both are fantastic, and you probably won't regret either.
Take Your Time and Try it Out
Make sure to put in as much time as you need to get the fit of your bike right — it will be with you every second of every ride. Come to Mike's Bikes to get the expert help you need to set it up properly.
About Mike's Bikes: Mike's Bikes is a growing family of local bike shops, all with a singular purpose - to get as many people on bikes as possible. We locally own and operate twelve wildly successful stores in Northern California. In addition to our brick-and-mortar shops, mikesbikes.com is one of the top online bicycle retail sites in the country.
---